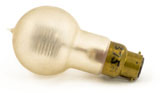 ach scientific object, book, manuscript, and photographic plate in Lick's historical collections has its own story and is part of a larger tale. Each is a window on the past and a light on the present. Each has the potential to inspire. The Historical Collections Project creates on-line exhibits illuminating the history of Lick Observatory and late nineteenth and twentieth century science, illustrated with items from its collections.

From Eyeballs to Electrons




Lick Observatory and the Evolution of Light Detection

Part One: From Naked Eyes to Celestial Cameras

Part Two: From Early Electronics to the Digital Age

(in preparation)

Our knowledge of the universe depends on our ability to detect and record light from the stars. From Eyeballs to Electrons traces the evolution of light detection in astronomy with special attention to Lick Observatory's role. Part One begins with astronomy's first detector, the human eye, and ends with photography's long reign as the principal astronomical detector. Part Two will describe the development of electronic detectors, culminating in the digital age.